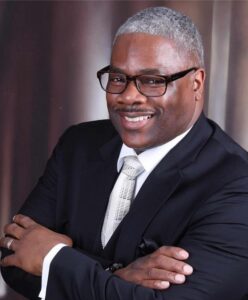 Office Phone: 206.772.1062
Brother Nathaniel Whitlock's journey to Christ began in November 1988 after relocating to the Seattle area shortly after meeting his wife Tina Ratliff-Whitlock who introduced him to the church of Christ. He surrendered his life to the Lord in baptism on May 25, 1990 at the Southside Church of Christ in Seattle, Washington, and his spiritual journey in Christ has been a continuous process of spiritual growth and service to Christ and the members of the Southside congregation.
Over the last 27 years Bro. Whitlock has joyfully served in many different roles in and around the church including the Men's Ministry, Bible Class Teacher, Trustee Board member and Preaching the Word of God. Nathaniel firmly believes that serving others through ministry is part of God's divine design, of which he is a humble servant.
After serving in the U.S. Marine Corp, Nathaniel received his cosmetology license and has operated his own business for over 28 years. Nathaniel and Tina were married in 1991 and together they have two children, Nathaniel, Jr and Johawna and one granddaughter, Jordan.